Discover more from Techshots's Newsletter
Technical Updates in short
Light-Fidelity
Li-Fi (short for light fidelity) is wireless communication technology which utilizes light to transmit data and position between devices.
WiFi runs our life. In fact, according to a survey carried out by Direct Line by Opinium Research online, it is the number one thing that their respondents couldn't live without. But no matter where you are in the world, you've probably experienced internet connectivity problems at one point or another.
Enter LiFi, a type of wireless connection that can be up to 100 times faster than WiFi.
Imagine a world where you can connect to high-speed internet by just flicking on your light switch. LiFi is a wireless optical networking technology that uses LEDs for data transmission. In simpler terms, LiFi is considered to be as a light-based WiFi which uses light instead of radio waves to transmit information. Using light to transmit data allows LiFi to deliver a couple of advantages such as working in areas susceptible to electromagnetic interference like hospitals and aircraft cabins and working across higher bandwidth while offering higher transmission speeds.
The LiFi technology is currently being developed by numerous organizations around the world.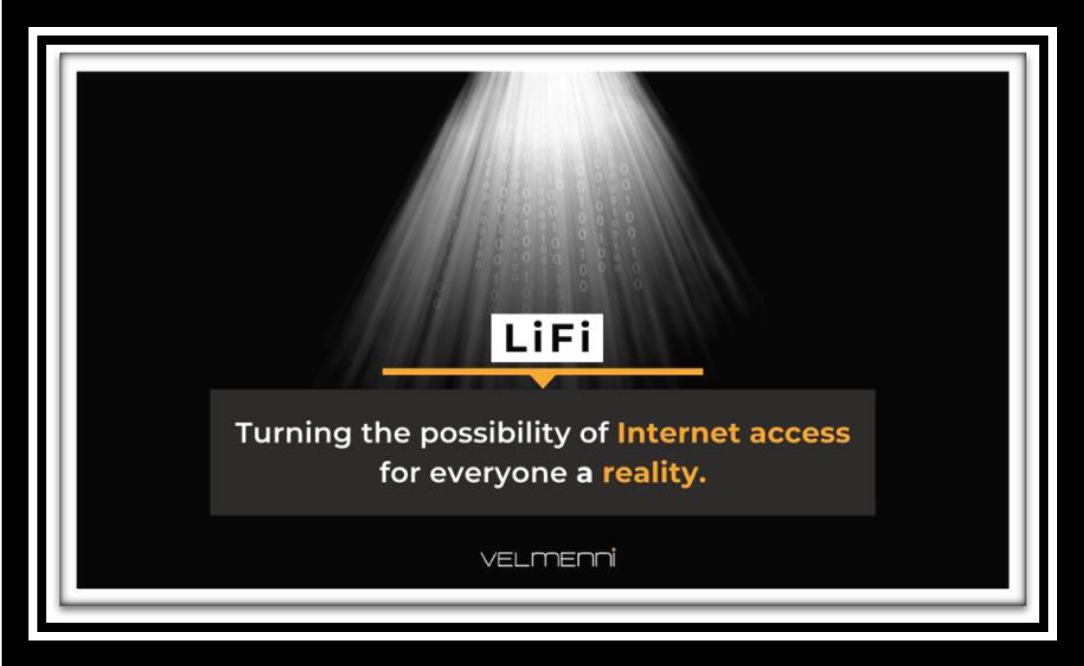 History of Li-Fi:
Li-Fi was invented by Harald Haas from the University of Edinburgh, Scotland back in 2011, when he demonstrated for the first time that by flickering the light from a single LED, he could transmit far more data than a cellular tower.
How does LiFi work?
LiFi is a Visible Light Communications system transmitting wireless internet communications at very high speeds. The technology makes a LED light bulb emit pulses of light that are undetectable to the human eye and within those emitted pulses, data can travel to and from receivers. Then, the receivers collect information and interpret the transmitted data. This is conceptually similar to decoding Morse code but in a much faster rate – millions times a second. LiFi transmission speeds can go over 100 Gbps, 14 times faster than WiGig, also known as the world's fastest WiFi.
Whereas WiFi technology effects data transfer on radio waves, LiFi takes the next revolutionary step in wireless evolution and embeds and transfers data in visible light beams, thereby allowing LiFi to take full advantage of the vastly greater light spectrum bandwidth capacity that is provided by the light spectrum.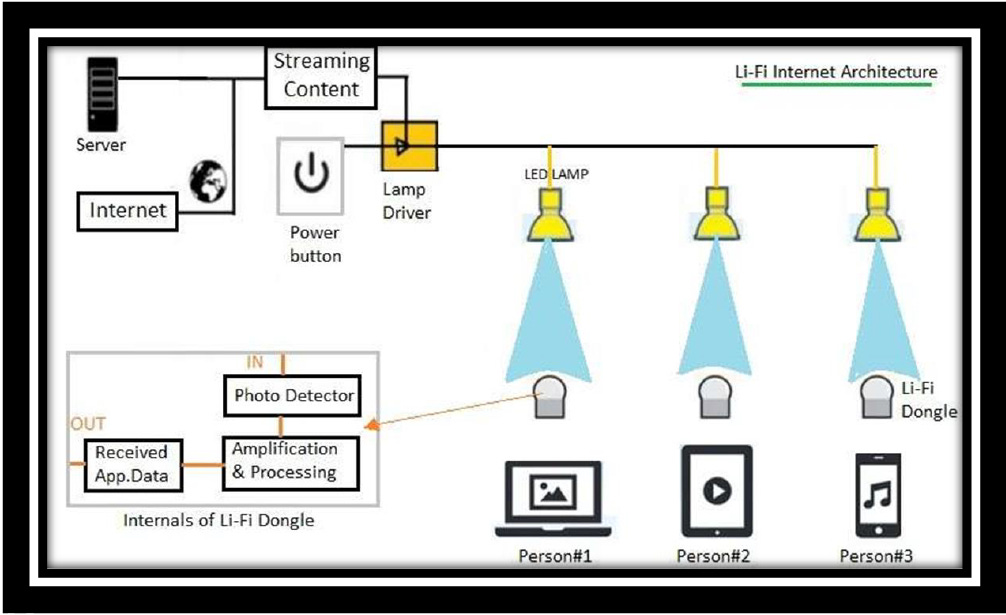 How it works exactly?
Data is captured in modulated light frequencies of a solid-sate LED light source and is then transmitted and received by LiFi-enabled devices. A photosensitive detector demodulates the light frequency signal and converts it back into an electronic data stream and – in so doing – allows for faster-than-ever, more secure, bi-directional wireless communication.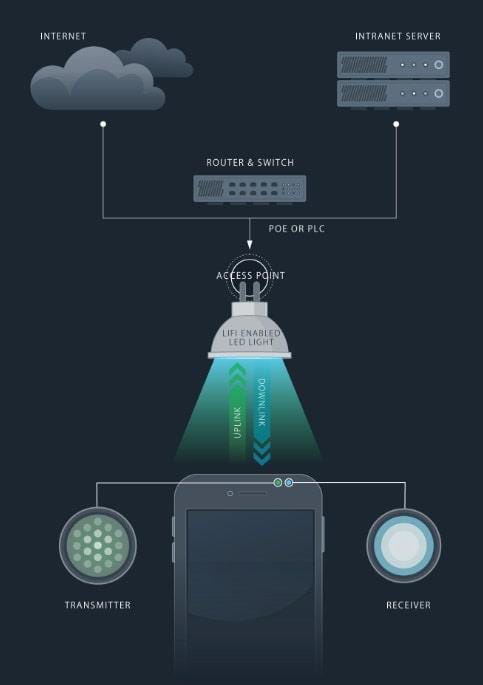 What does LiFi mean for everyone?
Using LiFi is really not that different from using WiFi; except that it would be very fast. At a city scale, street lamps could provide data to pedestrians, vehicles, and all sorts of infrastructure components that might be in need of data. Although the technology is only being utilized in industrial applications, it will soon make its way into smart homes. It is predicted that future home and building automation will be reliant on LiFi for being fast and secure.
Why is LiFi important?
Consumption of wireless data increases by 60% every year. That means that the radio-frequency space is slowly becoming saturated which can lead to phenomenon called a spectrum crunch. Spectrum crunch refers to the potential lack of sufficient wireless frequency spectrum needed to support a growing number of consumer devices, along with various government and private sector uses of radio frequencies within a broad spectrum allocated for different types of wireless communications. This poses challenges with wireless networks because it would negatively affect the speed of our internet usage.
Eventually, WiFi will not be able to keep up with the demand of data.
Benefits or advantages of LiFi technology
Following are the benefits or advantages of LiFi technology:
The data transfer rate for internet application is higher.

It provides high amount of security as data communication is line of sight (LOS). Moreover lifi signal covers low region does not pass through the walls. This will avoid unwanted access of lifi signal by unauthorized persons.

The lifi devices consume low power for operation and hence used in IoT applications.

It uses optical spectrum and hence avoids already crowded RF spectrum.

As it operates on optical bands which are not harmful like RF spectrum. Hence there is no health concerns in LiFi based system.

There is great amount of energy reduction in lighting industry which uses LiFi based devices.

It is easy to install.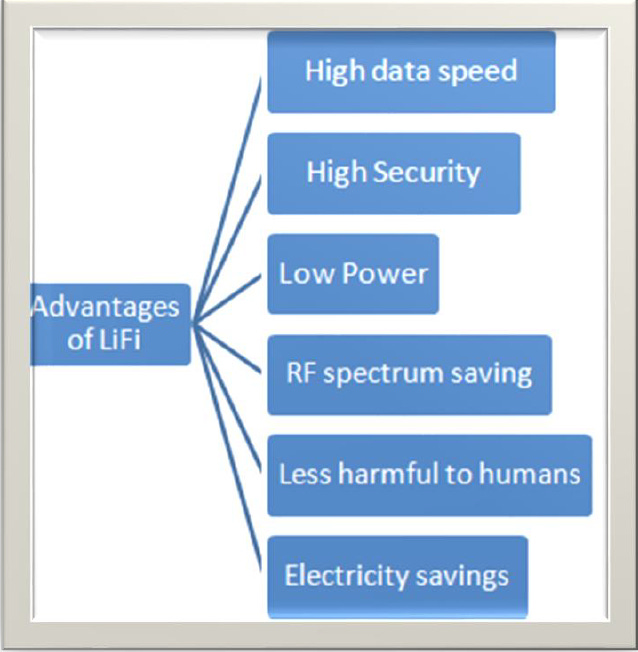 Drawbacks or disadvantages of LiFi technology:
Following are the limitations or drawbacks or disadvantages of LiFi technology:
Internet can be used only where light of source device is available. Moreover light can not penetrate from walls and it works only in line of sight path. This limits access of internet whereever one requires. Moreover its range is limited.

It can not be used in outdoor environment like RF signal. This is because of interference caused by sunlight and other optical sources present nearby. Moreover it can be intercepted by the unwanted people if used outdoors.

Though the installation is simple, Lifi system requires whole new infrastructure. This will add cost to the companies/people wanting to take LiFi Internet service.

Though it draws low power, in order to avail lifi internet services, lights need to be kept ON throughout day and night. As internet is need of the hour, this will waste energy more than any other internet system.

One can not watch games and videos on internet in the dark during night before sleeping on the bed.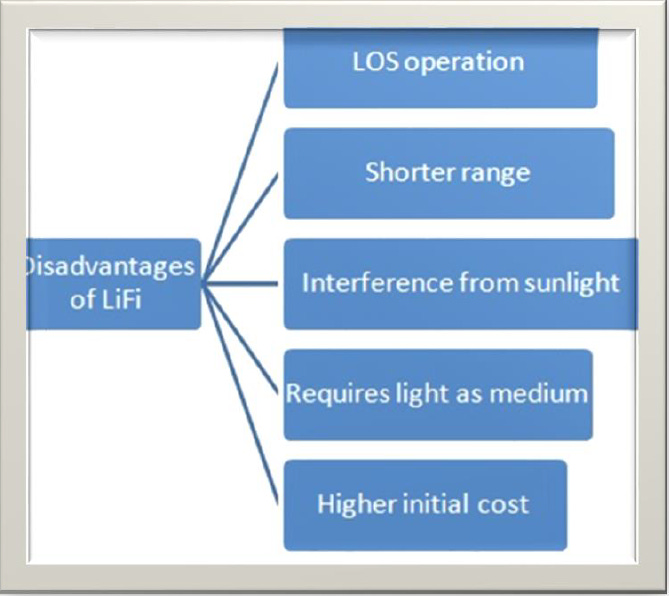 LiFi sustainability
The speed of LiFi technology not only lies on its speed. It will save costs in homes and workplaces because it could do without electronic devices such as routers, modems, signal repeaters, wave ampLiFiers, and antennas. Currently, these devices are connected to power 24/7. Since LiFi is connected to LED bulbs, using the technology would not be an extra cost.
Also in the near future, it has been estimated that we will be able to transmit data through solar energy. That means the people without internet access or with limited electricity resources will now be able to connect to the web wirelessly.
How close are we to using LiFi?
It's been predicted that LiFi would be released to the general public in early 2022.
A grocery store in France is currently using LiFi to track the locations of their customers throughout the store and is then able to offer coupons and incentives. Large mobile companies, such as Apple, are also starting to suggest that their future devices will be LiFi capable.
pureLiFi is currently working with partners across many industries including defense, healthcare, lighting, IT infrastructure, telcos, and device integrators. The company is also dedicating a lot of resource in the research for product development and commercialization.
The future of LiFi
Right now, LiFi cannot fully replace WiFi as a connectivity source, however, there are several LiFi companies that are working hard on developing LiFi products and marketing LiFi as the primary wireless technology. The demand for fast internet access is increasing every day and light fidelity could be the technology to meet this demand.
LiFi is considered to be future of the internet. That future is looking bright and we are all looking forward to it.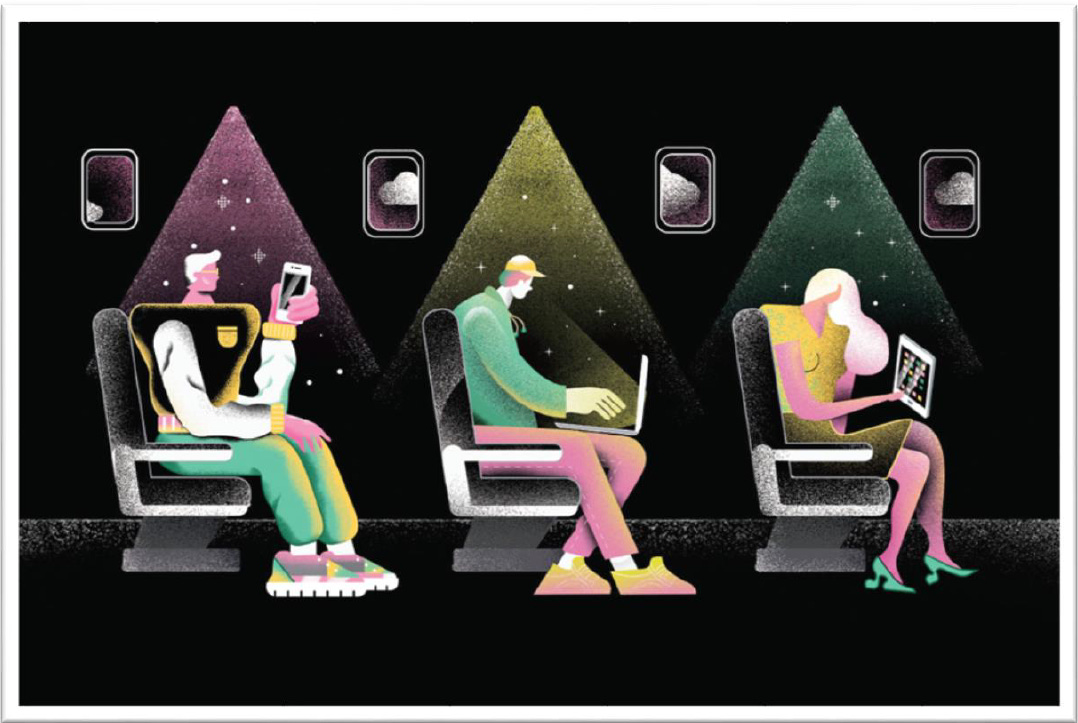 An Article By: Jeevana Jyothi and Hema
---
DISCLAIMER
Shaastra TechShots' publications contain information, opinions and data that Shaastra TechShots considers to be accurate based on the date of their creation and verified sources available at that time. It does not constitute either a personalized opinion or a general opinion of Shaastra or IIT Madras. The information provided comes from the best sources, however, Shaastra TechShots cannot be held responsible for any errors or omissions that may emerge.